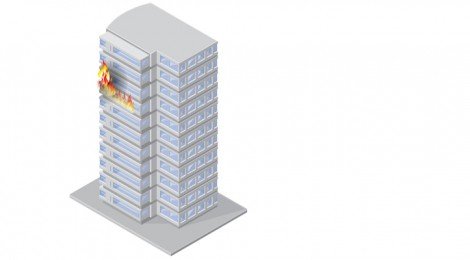 Condominium and hi-rise apartment living is at an all-time high, especially in Ottawa! With that being said so is fire. Their are three thousand deaths each year and over 15 billion dollars in damage due to fire. It is becoming more and more essential to take precautionary measures. Our government continues to enforce rules and legislation in Ontario that will reduce the risk to fire, however it takes a joint effort from building managers, civilians and fire protection companies!  If you're a building manager you have a high degree of responsibility in keeping your building in the safest environment possible. It is strongly recommended that monthly maintenance and annual inspections are always taken serious and never delayed. If you question the Fire Safety of your building we strongly encourage you to locate a professional Fire Protection company with required certification set forth by your government, the NFPA and other leading associations.
For those living in the unit make sure you have a fire alarm and that it is fully functional. This will be your early warning in the event that fire strikes your building. If it is not working contact your property manager immediately! The main focus is to exit the building as quickly as possible. Do you have an exit plan? If not take the time to create one. Hi-rise & apartment buildings generally have two exit stairways. Go down them a few times and get familiar with them. If you aren't able to use the stairways it is recommend that you notify the building manager so your unit number can be incorporated into the fire safety plan. Also locate the fire alarms and make note of where they are so you can pull them if you ever encounter a fire in your building.
Be aware that most fatalities aren't due from fire but rather the smoke that is a result of the fire. You will always want to protect yourself from smoke ensuring that you have the proper items to hedge against it. Having a wet cloth to cover the openings at the bottom of the door and all other areas that are vulnerable to smoke entering should be covered. We know that having this handy in the event of a fire may not be possible. If that is the case we also recommend having a role of duct tape and to use it to block smoke from entering your unit through spaces around your door and any other openings.
You should always leave it to trained professionals to handle the use of fire extinguishers and hoses found in the hallways of your building.
If you discover a fire:
Pull the alarm
Contact the authorities at the earliest possible time. Don't ever assume someone else has already done so!
Only fight the fire if:
You have the proper training
Do not attempt to fight the fire if it is not safe to do
Ensure you have an escape route from the building that is clear of danger